If you are a company in search of the best Keywords users will use to find you, you will want to use the Keyword Planner Tool.
Here is what you do:
Create a Gmail account to access Adwords
Login to Adwords
Next FIND or PLAN… experiment with each tool.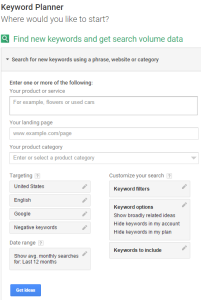 If, for example, you are a Desk Company and you research "modern executive desk", you First want to ENTER A BID & DAILY BUDGET.   From here you will be able to view the CPC (cost per click), impressions, and other valuable numbers that will help you decide your budget strategy.
This can be confusing for busy business folks, but it's a great idea to learn the system before you pay some techy to do it for you.  It's easy, you learn fast, and you will understand your visitors to your site much better.  Good Luck!